Tanya Weinberg, Save the Children manager, media and communications
Port-au-Prince, Haiti
February 19, 2010
I shot some video at the Bazilo school, which I visited recently with Chloe O'Gara, Save the Children's associate vice president for education.
At the school, the kids have a chance to learn and play, escaping some of the chaos in their lives caused by the earthquake.
Before the earthquake, the school was receiving support as part of a four-year-old Save the Children campaign, called "Rewrite the Future," which provides education to children in conflict-affected areas around the world. Three of the young students are pictured below. (Photo credit: Louise Dyring)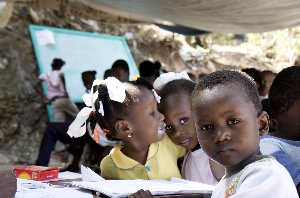 After the quake, everything has changed. The school principal Marcelin Mireille says that Bazilo has become much more than a school for these children and their families.
Pictured below is Immalula Bourdeau, age 22, and her nephew Joseph, age 3. (Photo credit: Louise Dyring)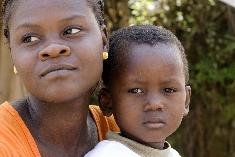 Joseph lost both his parents in the earthquake.
Immalula enrolled him at Bazilo so he could have some normal childhood experiences amidst the upheaval in their lives, and the school is now their home, too. 
She says the 50 people who squeeze into the area at nights are "like a family" now. 
What Madame Mireille and her staff at Bazilo have achieved and how important it is for the kids are summed up by Chloe O'Gara in a video shown  below. O'Gara says:
"What I saw here was a group of very resourceful people, deeply in touch with their community, who built on what was already there, which was trust and expectations. The community, as well, is responding with discipline and support for these remarkable people running the school."
Learn more about our emergency response to the earthquake in Haiti.
Help Us Respond to the Haiti Earthquake Emergency. Please Donate Now.
YOU CAN DONATE $10 TO THE HAITI EARTHQUAKE RELIEF FUND BY TEXTING "SAVE" to 20222 (US Only). Standard message rates  apply.