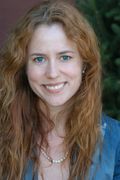 Kathryn Bolles, emergency health and nutrition director

Port-au-Prince, Haiti

January 16, 2010
I arrived in Haiti on Thursday as part of our response to the earthquake. On Friday, we began assessing the health situation for children and their families affected by the largest natural disaster to strike Haiti in 200 years.
Our first stop was to the General Hospital in the center of town — this is one of the only "functioning" hospitals. The scene there was dire in terms of the huge needs. Patients overflowed from the hospital building and were lying in the compound awaiting treatment. The hospital is still receiving patients, but it is chronically short of supplies and staff. 
The medical director of the hospital, however, was an inspirational person and explained the situation: two-thirds of the hospital is damaged and yet he remains determined to keep it open to meet the needs of the people injured in the earthquake. 
Even in the face of such adversity, he had a calming, positive attitude — while he spoke, a pregnant woman went into labor and he took the time to treat her. 
When we left the hospital, we saw two makeshift camps where people had gathered. One held 5,000 and had only four latrines. All of these latrines were full, however, and could no longer be used.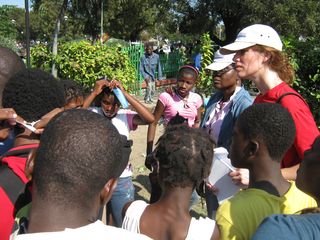 The lack of sanitation leads to issues around hygiene and can lead to increases in disease. During situations like this children are the most susceptible to hygiene-related diseases.
Even in these conditions, life goes on. While visiting the camp, we met one woman who had already given birth, with another women going into labor before our eyes.
There is very little shelter, however, and people are crowded together in very basic conditions.
When I arrived back at the office, I saw Winnie, a little girl under the age of 2, who had just been pulled from the rubble and was being treated by Save the Children's medical staff.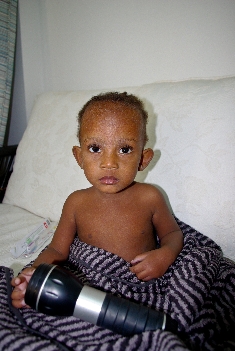 It was such an uplifting sight that provided hope during these difficult times.
Even as I watched, you could see her getting her strength back and regaining the color in her cheeks and the twinkle in her eyes.
It's hard to imagine that such a young child could survive for nearly three days under the rubble.
It's given me hope for the hundreds of thousands of children who have been affected by the earthquake. They are clearly strong and resilient.
We just need to support and protect them.
Help Us Respond to the Haiti Earthquake Emergency. Please Donate Now

YOU CAN DONATE $10 TO THE HAITI EARTHQUAKE RELIEF FUND BY TEXTING "SAVE" to 20222 (US Only).