Colin Crowley, Save the Children multimedia emergency response team
Makeshift Camp, Leogane, Haiti
January 20, 2010
Judith Louise lost her 6-year-old son in the earthquake and very nearly lost her 15-day-old baby boy, who does not yet have a name because he has not been baptized.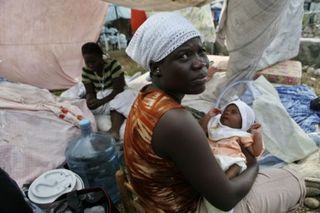 "When the earthquake struck, I was in the bedroom," said Judith Louise.
"I tried to run, but it knocked me down and I couldn't go back inside to grab the child. Outside, they asked me where was my baby. I told them I didn't know."
"The baby's grandfather went back inside and he saw that the baby had fallen on the ground. The wall had collapsed next to the baby and he was covered in dust. When they pulled my child out, I thought he was dead."
Judith Louise's husband, Friesnel, said, "The baby wasn't moving or breathing. It took a long time to revive him. When Judith Louise started nursing him, though, he came back to life."
"We were lucky to find the child alive," said Friesnel.
"Our house was completely destroyed. We lost everything. Everyone's house has been destroyed, so now we are equal as one – you understand. We don't have anything to survive with. Even if we have money, we can't find anything to buy. Nobody is giving us anything. We're all suffering here."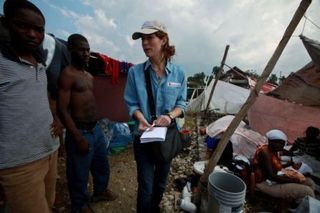 Friesnel worries about how his family will survive, living in the streets.
Save the Children's Kathryn Bolles (pictured at right) helps families like those of Judith Louise and Friesnel by providing medical and nutrition supplies.
"We need to rebuild our houses. Our baby is suffering because we don't even have money to buy milk. We need money to reorganize our lives. We need food to come to this country in order for all of us to survive."
Help Us Respond to the Haiti Earthquake Emergency. Please Donate Now.

YOU CAN DONATE $10 TO THE HAITI EARTHQUAKE RELIEF FUND BY TEXTING "SAVE" to 20222 (US Only).