Filippo Ungaro, Save the Children, communications manager  

Makeshift Camp, Port-au-Prince, Haiti

January 19, 2010
Angelo, age 8, lost his home and all of belongings in the January 12 earthquake in Port-au-Prince. Today, he and his seven brothers and sisters are living with their mother in a crowded temporary encampment on the grounds of a church.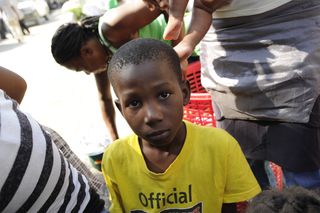 The family survived with only the clothes on their backs. What little food they have they receive from friends. 
Angelo and his sister were just outside their house when the earthquake hit. 
"I was looking for my mum and I was really scared," he says.  "Now we don't even have a tent to sleep in. I don't have anything, not even clothes." 
Angelo, who would like to be a football player when he grows up, says he misses his home, his classmates and his school.
"I would like to go back home but I know that it's impossible now. I'm not going to school anymore. It's a shame because I like school," he says. 
A third-grader, Angelo's favorite class is grammar. Instead of being in class since the disaster, he says he spends his time playing with friends "even if I don't have many here." 
Save the Children is establishing a Child Friendly Space on the grounds of The Church of Jesus Christ of Latter-day Saints, Ruelle St. Cyr, Carrefour Ti-Four, so that children in the encampment where Angelo is staying have a supervised place to play.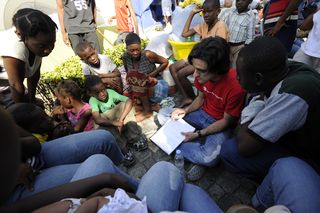 Angelo's mother, Maria Josette, said their house had been paid for but now they will have to start over.  
"The situation is not good for us," she says. "I have nothing left."
Photo credits: Antonio Bolfo/Getty Images
Help Us Respond to the Haiti Earthquake Emergency. Please Donate Now.

YOU CAN DONATE $10 TO THE HAITI EARTHQUAKE RELIEF FUND BY TEXTING "SAVE" to 20222 (US Only).