Charles MacCormack, president and CEO Save the Children

Port-au-Prince, Haiti

January 17, 2010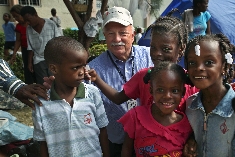 It's a race against time to get food, water and medical supplies to the people who for five days now have received very little aid. At this center for displaced children, the kids now feel safer and are cared for by trained staff.
Even in the most challenging of situations, Save the Children has been able to deliver urgently needed food, water and medical supplies. And we are doing that right now!
We are working to set up Child Friendly Spaces in areas where families have been setting up camp.
These areas will ensure the safety of children in the camps.
It gives them the opportunity to play and begin to recover from the death, injury and destruction they have witnessed, and the lack of necessities they have endured.
Photo credits: Adriana Zehbrauskas/Polaris
Help Us Respond to the Haiti Earthquake Emergency. Please Donate Now.
YOU CAN DONATE $10 TO THE HAITI EARTHQUAKE RELIEF FUND BY TEXTING "SAVE" to 20222 (US Only).