Allison Zelkowitz, Save the Children program manager

Allison's blog also appears on CNN's Anderson Cooper 360 blog page 
October 8, 2009, 10:56 PM
I think I may actually get a full night's sleep tonight – for some reason this makes me feel guilty. My colleague is snoring on the small sofa outside my room. He's fully dressed, and there's an empty bed just five feet away, so I don't think he meant to fall asleep there. Everyone is exhausted – the aid workers, the government officials, the journalists, and especially the families whose houses have crumbled.
And it's only been a week!
Today four of us on the  team moved from our first base camp north of Padang to a small village in the mountains near Lake Mininjau. Save the Children is working to expand our emergency relief program quickly, so that we can help as many people as we can when they need it most.
Our goal is to reach 150,000 people affected by the earthquake with humanitarian aid, as well as provide child protection and education programs.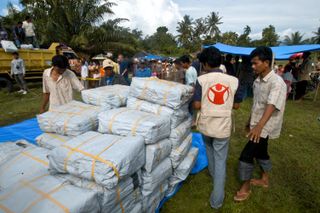 But one of the hardest things about this job is that it never feels like enough.
There are always more communities who want our support, more people who need food and shelter, and more children who require care and protection.
Here in this tiny village, where only a handful of houses still stand, this is incredibly apparent.
So I try to focus on the small achievements – tonight, 347 families will stay drier under the tarps we gave them. For now, that is enough.