Allison Zelkowitz, program manager, Save the Children
Oct. 4, 2009 Pasa Dama, Indonesia
Allison's blog also appears on Anderson Cooper's 360 blog page.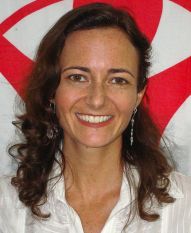 I'm now with a team of 12 Save the Children staff and three volunteers in the village of Pasa Dama, in the district of Padang Pariaman, about 50 kilometers north of Padang City. The earthquake devastated this area - it is the worst hit and, up until now, the least helped. Many areas have seen no relief.
This is where Save the Children will focus its humanitarian response and where we reached more than 450 families today with shelter and essential supplies.
In the last 24 hours, our team assessed 16 of the surrounding villages. We found that 70 to 95 percent of the homes have been severely damaged or destroyed. Almost everyone we spoke to was sleeping on the ground outside their homes, under makeshift tents. Children tell us they are afraid another quake will strike.
Today our team distributed tarpaulins and plastic sheeting to 458 families in two of these hard-hit villages. These items are critical — it's been storming heavily for the last few hours, and the rains are expected to continue.
We've heard from both community leaders and health workers that colds and respiratory infections are on the rise – especially in children – since they've been sleeping outdoors, exposed to the elements.
Save the Children provided each of these families with 'hygiene kits,' which include soap, shampoo, toothpaste, toothbrushes, and other essentials. Each kit is enough for a family of five. Although some people were able to rescue their belongings from damaged homes, many lost everything and literally escaped with only the clothes on their backs. I've watched a number of families pick through the rubble, looking for anything they can still use.
I'm still shocked when I see another house that's crumbled, or hear someone's escape story. But I'm amazed by the local communities' resilience. And I'm humbled by their generosity.
Our team has crowded into a young couple's two-bedroom home to sleep – it survived the quake with only small cracks in the walls. Today some villagers insisted that I sit down with them and join in their community lunch. I protested at first, but after much urging took a little rice and vegetables. And yesterday, when I was speaking with three mothers and their children inside a tent, they offered me water to drink – even though all they possessed was a box of instant noodles, an oil lamp, and some bottled water! That time, I politely refused.