Latha Caleb, Save the Children country director, Philippines
Oct. 4, 2009  Manila, Philippines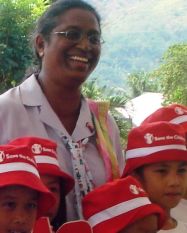 The wait is over…. Typhoon Parma has smashed into the northern Philippines, missing Metropolitan Manila. So much is happening here. I have been desperately trying to get through to our contacts in northern Luzon to see what destruction the typhoon has caused. We hear that the roads are completely gone and the only way to get there is by flight. But there are no scheduled flights to that area so we have to get space on a missionary flight. So far, our attempts to get seats on the flight have failed. So we turn our attention to all that needs to be done in Manila. And there is plenty that needs to be done. The Save the Children team is out now distributing more relief supplies to the children and families who urgently need them.  And I am here in the office, pounding on my computer, answering all the e-mails that keep popping into my inbox from colleagues, supporters and others who are eager to know the latest about what we are doing to help.
On her return from the field Gia Chu, our communications manager, shared her experience with me:
I joined our team today to distribute another batch of relief items for affected families of Typhoon Ketsana in Muntinlupa. Every time I see children with their parents gather around to receive relief kits from Save the Children, I cannot help but ask myself how these children are feeling and are coping amidst this very difficult time.
Children come up to me as I walk around the evacuation centers, eager to tell me their stories.  I learned that one child rescued his younger siblings during the storm and looked after them because his parents were away. Another boy told me that he didn't feel scared at all because his father was beside him. Two girls from an evacuation center in Cainta told me how they missed their homes and the things they lost in the flood. But all of them were very concerned about their parents who are fighting to make ends meet more than ever.
Children are resilient, sometimes even more than adults. In spite of everything that has happened to them, they are still able to laugh, sing, dance and play. Most of them can't wait to go back to school to learn. Some take care of their younger siblings as a way to help their parents. Others help clean up their damaged houses, and collect scrap metal to sell and earn money to buy food for their family.
We need to be more like these children. There's so much to be done, and we cannot waste time. Let's continue working together to give children what they deserve—a world that fights for children's survival, a world that protects them, a world that prioritizes their well-being and development, and a world that listens to them.
I can sense and feel what Gia is saying… I get back to pounding the keyboard on my computer and then I hear someone saying with excitement that one of the donors we approached has asked us for a full proposal. This means we are reasonably assured of getting some resources … this makes me feel good … only briefly…. Yes, we will be able to reach out to a few hundred  children with this money. But there are thousands more waiting for our help … we need to keep working until we have reached every last child who needs our support.
Learn more about Save the Children's response in the Philippines