Latha Caleb, Save the Children country director, Philippines
Oct. 6, 2009  Manila, Philippines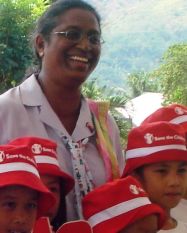 The teams went out to do further assessments in some of the flood affected areas. I was waiting in anticipation to hear from them. Finally they got back and this is what Nida our Emergencies Adviser had to say.
"The children and the communities are still trying to clean up all the mess and the debris that is lying around. Many of the schools have started functioning but the schools also have to double up as evacuation centers. This means there is scarcity of space. We want our Child Friendly Spaces to function, we need to have space for additional toilets to be available, but there is a big constraint of space. There are three shifts per day in the schools – this means some of the children go to school at night! Many of the community members and the children were complaining that due to water logging their legs and feet have been affected by scabies and many of them have cracks on their skins."
This was very useful information for us and we have now additionally added washing soap with higher sulphur content into the kit for the communities. There is still the challenge of dealing with the toilet facilities in the evacuation centers – what does one do? We made a few calls to other agencies to check how they are handling this situation and found that each one of us is trying o crack this one! Earlier today I went to the Johnson and Johnson office in the Philippines to sign the Memorandum of Agreement and also collect the check that they were giving us in support of the work in the typhoon response. I have been there before but this time I also heard from the many staff there that each one of them has been affected by the typhoon in some way or the other. As we were driving back my driver showed me pictures of the area where he comes from – Laguna – and these were pictures that showed rafts being used by community members to move from one place to the other. He said that he used the raft to get both his children out of the area to a much safer place.
I am excited as tomorrow I would be visiting one of the evacuation centers where the Child Friendly Spaces are functioning. Reuters wants to do a feature on the Child Friendly Space and we want to do a good feature on this. As I step out of my room I see a frenzy of activity going on in the front office – bags of rice – blankets – slippers other items for the kits all being packed and kept ready for distribution. I hear the volunteers listening to the music as they pack.
Tomorrow is another day and we ill be reaching out to many more families and children but for this we need to prepare today!
Learn more about Save the Children's response in the Philippines