Latha Caleb, Save the Children country director, Philippines
Oct. 5, 2009  Manila, Philippines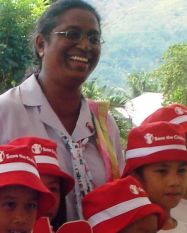 Another day of frenzied activity. More meetings to attend, packages to be delivered to the communities, plan our strategy, get more staff into the response, get the assessment teams cracking, answer emails and phone calls from donors, for partners, from other program staff, from friends….
I had a meeting with the European Commission today. Prior to the meeting, we went to pick up a colleague whose house was totally washed out by the floods.  I was so shocked by the ravaged walls and the height the water had reached. It was over 6 feet. It has been more than a week now, and still electricity is not restored. The refrigerator is not working, so food is literally managed on an every-meal basis. My colleague has spent a lot of time cleaning and salvaging belongings from the water. There is no bed, no mattress, no pillows. Everything that could be salvaged was drying—shoes, clothes, papers, photographs, documents.
At the EC meeting, one of the local staff came to offer us coffee. I asked her, "How are you and how was the floods in your area?" She paused for a moment and said, "The water level came up to the second floor of our house and we were very scared. My neighbors' houses were at a lower level than ours and they had a baby who was only a few months old. They were very worried about the baby, so they came to our home for safety. We were all crowded into the second floor space and were praying for the water to recede. The water was swirling. We were more scared that we will not be able to save the baby. We looked around and found some of the cooking oil cans that we had moved to the second floor. We opened the cans and threw out all the oil… put together a few cans and tied them up with strings and made a small float bed to put the baby in. We tied strings to the float bed and tested to make sure we were able to hold on while swimming to safety." She then quickly apologized and asked us if we would like some coffee and left.
Learn more about Save the Children's response in the Philippines