Latha Caleb, Save the Children country director, Philippines
Oct. 7, 2009  Manila, Philippines
How does one stay focused when everything around you screams for attention? This is how I felt when I entered the evacuation camp in the Cupang Elementary School in Muntinlupa. There was stagnant water everywhere, 15 families huddled into one classroom, women bathing on one side, children playing, several pregnant women wandering around, people sleeping on the floor, someone washing clothes, another bathing a little child.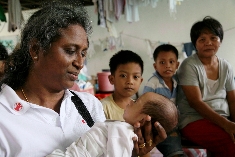 My eyes fell on a lady holding a little child. To me, it looked like the child was a few days old. I asked her how old the child was and she said," 2 months. " The baby did not look like a two-month old child at all.
I asked her when the child was born, thinking there must be some miscalculation, and she said, "July. He was born in his 7th month."
I held out my hands and asked her if I could carry the child and she willingly gave him to me. As I was holding the child she said to me, "The mother died giving birth to this child." I was shocked, and angry, and frustrated all at the same time. Mothers dying in child birth! How could this be happening?
"He is being breastfed by other lactating women in our neighborhood," she said. "He will need several mothers to replace the one he lost."
Learn more about Save the Children's response in the Philippines