Latha Caleb, Save the Children country director, Philippines
Latha Caleb joined Save the Children in 2005 as director of the tsunami programme in India. She supported the formation of Save the Children India, before moving to the Philippines.
October 9, 2009, Manila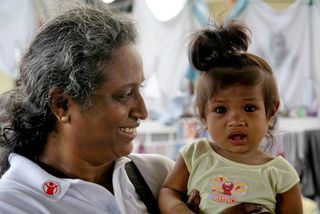 Today I went to a school where more than a 100 volunteers, all employees of Kraft Foods, were standing in a row and passing the relief items in an assembly line. They all seemed very engaged and full of energy doing this kind of work.
In another school that I visited, the Kraft Foods volunteers were cleaning the school, which is functioning as an evacuation camp.
Kraft Foods and Save the Children have an existing partnership in the Philippines, and our joint response to an emergency situation, such as this one, was a natural coming together.
One scene stays in my mind. As my colleagues and I drove along to the Exodus School in Barangay (village) San Juan, Cainta, we passed mounds and mounds of debris that was piled mountain-high along the road for nearly a kilometer.
We were driving with the car windows rolled up. As we were moving slowly, we suddenly came upon a sight that disturbed us. There were kids on top of the mounds of debris and they were digging into it with bare hands looking for things that they could sell for money. We rolled down the window as we wanted to take some pictures and the smell of hot, rotting garbage hit us.
Typhoons Ketsana and Parma have certainly made poor children's situation worse, pushing them to work under appalling conditions just to help their parents put food on the table.
Is this the childhood we want to see for our children?
Learn more  about Save the Children's emergency response in the Philippines.