Allison Zelkowitz, Save the Children program manager

Allison's blog also appears on CNN's Anderson Cooper 360 blog page 
October 9, 2009, 11:00 PM
Our new field office consists of two bedrooms and a sitting room on the second floor of a large home bordered by rice terraces. This could almost be Bali, if it weren't for the collapsed houses next door.
The landlady here is about 70 years old and less than five feet tall; she has a wonderful smile. She's not only housing us, but she's also taken in 10–15 of her neighbors, who sleep on the floor downstairs. This house has become quite a community center – there are always a dozen or more children playing outside or watching TV. Most of these children are now homeless.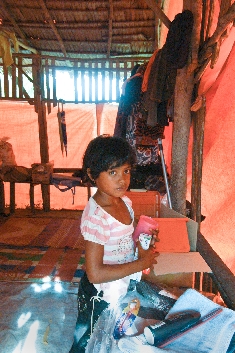 Today I brought some crayons, coloring books, paper and markers for our landlady to keep in the house. When I showed them to the kids, I thought they were unimpressed.
But as soon as I walked away, they immediately dove into the box and started drawing. I think many haven't seen crayons or toys in a week.
Many mothers and teachers have told us that children here have been traumatized by the earthquake.
I've heard that some are afraid to leave their parents' side, and I've seen kids jump when a helicopter flies overhead or a large truck trundles past. Yet they still have so much capacity for joy. 
This afternoon I was sitting under a tent surrounded by eight children – their parents were waiting to claim the hygiene kits and shelter materials Save the Children was distributing. I made some faces at the kids for a while, and tried to get them to sing (they refused). But then I showed them the "separating thumb trick," which they watched with a mix of awe, glee and terror. When I asked if they wanted to learn how to do it, they ran off screaming and giggling. 
Sometimes I love my job.
Learn more about Save the Children's emergency response in the Asia-Pacific region.