Nick Finney, Save the Children Emergency Response Team Leader
Oct. 1, 2009 -  Hanoi, Vietnam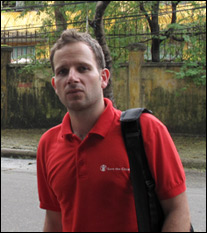 Arrived in Hanoi about 36 hours after a storm lashed the coast of central Vietnam. The typhoon brought very strong winds but also dumped an enormous amount of rain after landfall. Our team have already jumped into action, Typhoon Ketsana hit several provinces where we were already working to improve the situation of poorer children and families in Vietnam.
We're relieved to hear that all our team are accounted for but the damage looks bad. We also have reports of heavy rains continuing to make the search and rescue very difficult. The government is taking a lead on trying to get to people trapped by the floods.
My colleague finally makes contact with his two nephews in Hoi-An, a well known tourist town. They managed to get word out that they are OK. Hoi-An is heavily flooded. They are stuck on the first floor but with adequate food stocks.
We spend the afternoon organizing further supplies, basic things to help a household get back on its feet. We need to get them out there quickly. We establish an operations room in our Hanoi office.
But we're worried, the rain is still coming and there is limited news from many remote areas.
"How bad is it?" I ask Hang, our emergency manager – she's worked for us for several years doing emergency response.
"This one is bad. Da Nang was hit in 2006 by Typhoon Xangsane. It caused a lot of damage, ripping off roofing. But it was a dry typhoon – no rain, only strong winds. We haven't seen floods like this for a long, long time. People are suffering."
News comes through of the damage caused by the earthquake in Indonesia and fears of another big storm approaching the Philippines. It really puts us under pressure but our job here is to focus 110 percent on getting relief to the affected children in Vietnam. We cannot get distracted.
At least the airport in Da Nang is now open. We can fly tomorrow. I'll be up at 4 AM for the flight. It takes an hour – we should be on the ground by early morning, some basic supplies arriving later in the day.