Latha Caleb, Save the Children country director, Philippines
Latha Caleb joined Save the Children in 2005 as director of the tsunami programme in India. She supported the formation of Save the Children India, before moving to the Philippines.
Oct. 8, 2009  Manila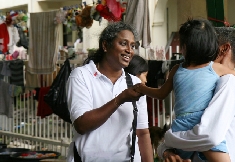 I visited our driver Ruel's home today. His home was washed over fully in the flood. I met Ruel, his wife Rose Ann, and his 5 children.
His home – or whatever remained –had clothesline strung all across and there were clothes drying. Every side of the wall in his home was broken.
It is more than two weeks since Ketsana raged in Manila, and still Ruel's home did not have electricity, and we had to look around using flashlights. 
Ruel had lost weight and looked tired. He said that he was most worried for his children. The only way he could save them from getting drowned in the water was to break open the walls on the sides so that the water would drain through and not stagnate and rise up to the roof level.
All around his home there were visible signs of debris and houses that had collapsed. Many homes still had water logging and people living in those homes had elevated all their belongings whatever they had salvaged on to a higher level.
Ruel said that his son wanted to go to school, but all his books and his school bag were lost to the swirling waters. I had carried with me the message from Carolyn Miles and from Charlie MacCormack and gave it to Ruel.
We used a flash light to read it together and as he read the note I could see tears glistening in the corner of Ruel's eyes. He was so touched by the note. Maraming Salamat Po – that is thank you very much in Filipino, was all he could say.
Learn more about Save the Children's response in the Philippines