Phan Thi Thu Huong
Sponsorship Manager
Save the Children Vietnam
September 25, 2015
Nothing compares to seeing the impact a supportive learning environment can have on a child.
When I first started working for Save the Children a few years ago, I was introduced to a girl attending a primary school in Lao Cai Province in northern Vietnam who was so tremendously shy and, as an ethnic minority, did not know the national language – Vietnamese.
The girl, named Ly, was just starting first grade at the Save the Children supported school, and it was her first time stepping into a classroom. She had not been given the opportunity to attend preschool or kindergarten, having instead joined her mother in the field as her mother tended to the family's rice and corn fields. 
Ly felt isolated in the classroom, initially unable to communicate with her classmates and teacher. When I approached her, she said nothing and just stared at me, visibly anxious about how she fit in.
Fast forward two years, and I had the opportunity to meet Ly once again during a visit at the school.
I didn't have to look for her though. She ran up to me and greeted me in Vietnamese, excited to tell me about everything she had learned. She was no longer disconnected and disengaged with her classmates and teacher, and it shocked me how much she had changed.
In the two years I had not seen Ly, she had been given the fundamental educational tools to thrive at school and in life. At Save the Children, this is what we strive for with every child, and we are working hard to ensure kids have a much earlier start on their education than Ly — as 90 percent of a child's brain development occurs before they reach kindergarten age.
All children deserve a strong start, but too many children around the world aren't getting this chance.
Here in northern Vietnam, where I help to oversee early learning and education programs at 23 primary schools and 20 preschools, Save the Children is helping improve the quality of teaching by training teachers on bilingual education techniques and interactive learning methods. We're also working to increase children's access to preschool and primary education, and strengthening the support for early learning through parents and community leaders.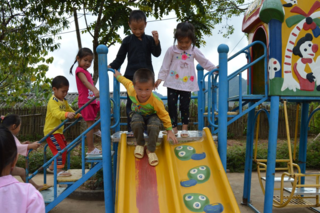 Recently, Save the Children was honored to be recognized by Microsoft – through its #UpgradeYourWorld movement — as a global nonprofit that's empowering and inspiring others. By featuring Save the Children's early learning efforts throughout September, Microsoft is helping spread the word about the importance of investing in children all over the world.
I have seen first-hand how Save the Children's collaboration with a school and a community has helped "upgrade" the future possibilities for Ly, and am excited to help be a part of upgrading the possibilities of many more bright children like her.